About Dr. Amy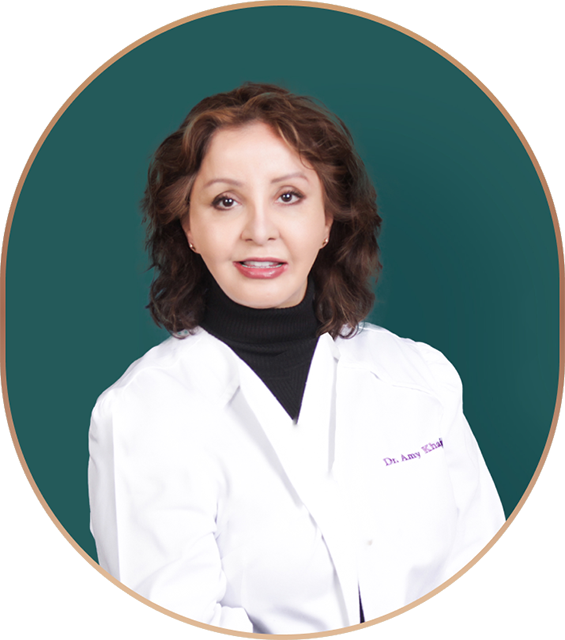 Dr. Amy Khajavi graduated from the International College of Cranio-Mandibular Orthopedics in Chicago, Illinois. Dr. Amy's training continued for five years after getting her dental degree in Oregon. Due to her dedication and hard work, she received the prestigious Master of International College of Cranio-Mandibular Orthopedics.
Dr. Amy specializes in full mouth reconstruction utilizing ceramic zirconia implants and crowns, occlusions, jaws, sleep disorders, neuromuscular dentistry and TMJ/TMD diagnosis and treatment. In fact, she has managed thousands of cases of TMJ/TMD, bruxism, and other related conditions. The success rate of Dr. Amy is unparalleled, she has completed thousands of ceramic dental implants.
Dr. Amy Khajavi performs full mouth reconstruction using ceramic zirconia dental implants, as well as crowns. This makes her one of the few dentists that do not use traditional titanium implants.
Dr. Amy's practice is strictly holistic. All Natural Dentistry, where metal substances are not used. Instead, she opts for non-metal biocompatible materials. She also uses 3D technology to improve precision and accuracy during dental implant surgery.
With over 20 years of experience as a practicing dentist, she has all the necessary qualifications to take outstanding care of her patients. During her training, Dr. Amy was under the supervision of two world-renowned prosthodontists – Dr. Bob Jankelson and Dr. Ueno Hiroshi.
Dr. Amy to receive several awards, including 'Excellence in Full Mouth Rehabilitation'. This award comes from the Las Vegas Institute for Advanced Aesthetic Dentistry in 2002. One year later, the same institution named her 'A Highly Dedicated and Master Clinician'.
Dr. Amy was awarded a fellowship by the International Congress of Oral Implantology. Dr. Amy has been a metal free dentist for over 15 years now.  Her belief is that metal-free implants are significantly better compared to titanium implants.